A year's rubbish in a jar
Jack Wakefield and Caitlin Collins speak about their not-so-rubbish 2019 after completing an impressive challenge to reduce their waste.
Written by Tearfund | 13 Jan 2020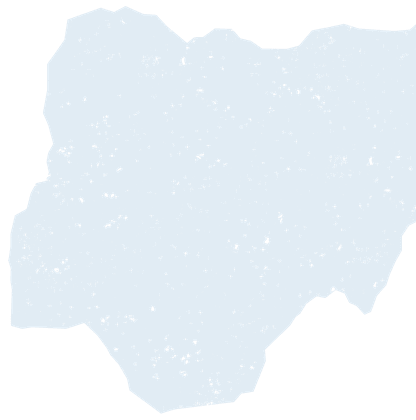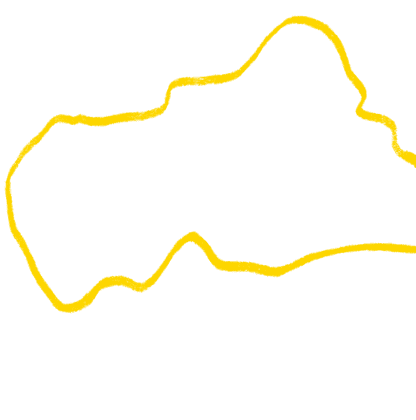 It's well known that early January is mad season at the gym, as people frantically make (and break) their New Year's resolutions. As worthwhile as fitness goals are, some people also take the opportunity to set themselves challenges for reducing their impact on the environment. I spoke with the newly engaged Jack Wakefield and Caitlin Collins who completed an impressive challenge in 2019 to reduce their waste.
First of all, congratulations on getting engaged!
Both: Thanks!
So what was the challenge you set yourselves in 2019?
C: The challenge for each of us was to reduce our waste going to landfill as much as possible, to the point where we could get both lots of rubbish for the year to fit into a jar.
J: We've been trying it ourselves for years, but this year we both really wanted to reduce our rubbish as far as we could possibly go.
What inspired you to take this on?
C: We've both been interested in reducing waste for a long time. We went on a trip to Haiti with Tearfund in 2018 and saw lots of burning waste there. We saw how much of a global problem it is, and started thinking about what we could do here.
J: Five years ago I was at an event run by Tearfund, and Jo Herbert-James (the speaker) explained how we can use our everyday life as worship. We watched a video about Lauren Singer, a woman who lives in New York. She had a jar that was about a third of the size of ours, and in it was her rubbish for the last two years! It totally blew my mind that it was even possible to live in such a different way. And that felt like it fitted with what I considered to be worship and seeking justice.
Reflecting on the challenge, what did it highlight to you about our culture and our relationship to waste?
J: Doing this, you realise that our society is totally addicted to plastic and single-use products. Going into a supermarket, you see it literally everywhere. I can't unsee it now. You look down an aisle, and it's just full of single-use packaging and non-recyclable plastic. The system is so hooked on plastics that it makes it really hard to avoid.
One of the big things our culture tells us is that we can have whatever we want, whenever we want it. Doing this challenge meant there were many things that we just simply couldn't have. And those boundaries and limits are healthy and really good for us.
C: We also realised there are loads of people keen to do this. Just before we started the challenge, a zero-waste shop opened [near work]. When I went home for Christmas, there was one that had just opened in the town there too. There have been more and more companies and shops that are trying to do things in a different way.
J: And we know that for a lot of people, their circumstances mean that this challenge would be impossible. We had some advantages by both living independently, and not having kids or dependents to worry about, and we both still found it really hard at times. It's great that lots of us can cut down our waste and do that as part of our worship, and that's really important. But we need the system to change as well.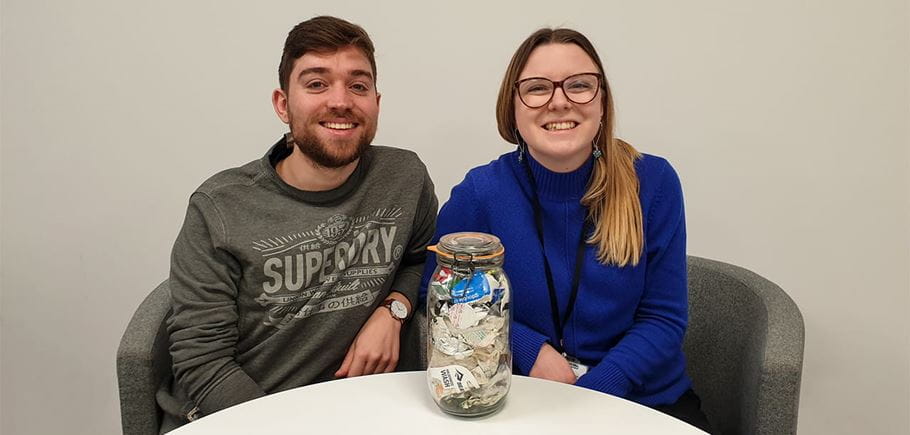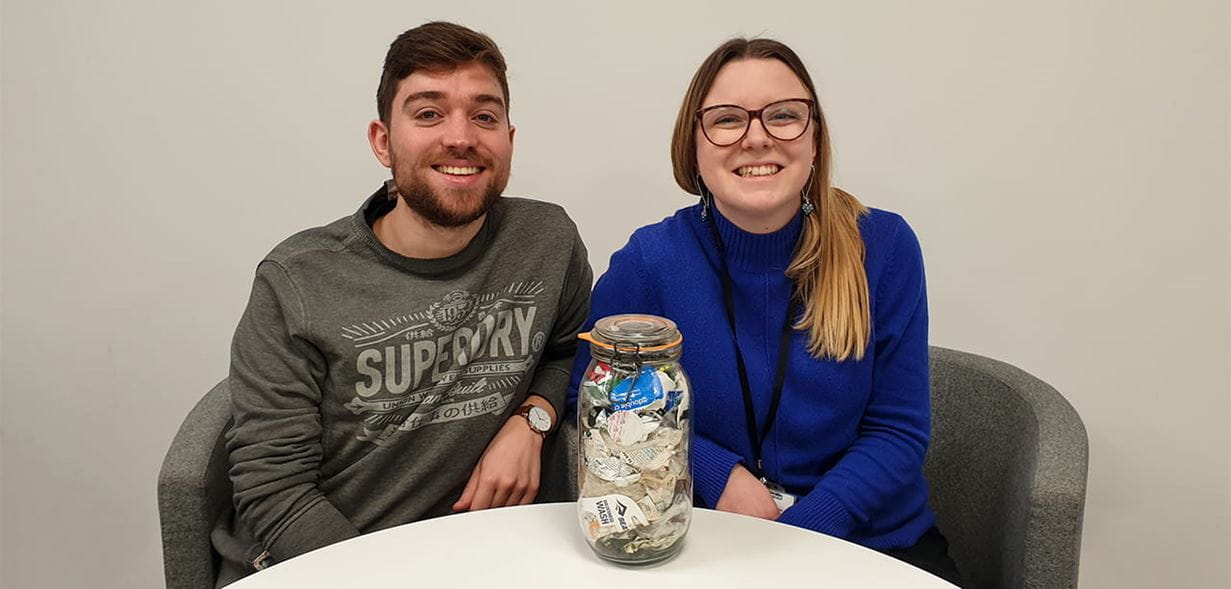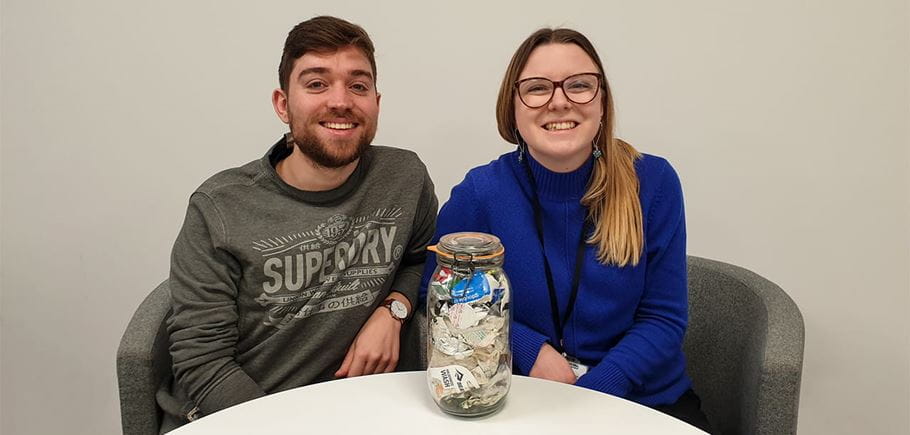 Jack and Caitlin with their jar of rubbish from 2019.
What were the hardest parts?
J: We did argue in the middle of the year about variety of food...
C: Yeah. At the start, neither of us knew what we could get in recyclable packaging or without packaging, so we both began by making the same few meals with the few ingredients we knew we could get. Now, I'd be able to look at a recipe and know what I can get without packaging and make some creative swaps to make it work!
J: You start to learn what different supermarkets do as well. One of the hard bits is that some stuff is just unavoidable. In our rubbish jar are paracetamol packets, and milk bottle lids from when I've run out of glass jars of milk, or stickers on fruit, and those kinds of things that you just can't really avoid that easily.
Has the challenge become easier or harder over time?
J: I used this same jar five years ago, and that was for just one week's rubbish. I think it's because when you start it, you've never thought about it before. Over time, you pick up ways to do things differently.
K: What was it like taking on the challenge as a couple?
C: We had each other to be accountable to. We could challenge one another, like, 'Did you really need to buy that?'
J: And we could share ideas. Like when Caitlin worked out you could get cheese over the counter without plastic or I shared a new recipe I'd tried, where all the ingredients could be waste-free. We could cheer each other on too.
And I guess people could do that same kind of thing with their friends or housemates?
J: Yes, it would make it so much easier. Having other people to share it with you and cheer you on is really helpful. And there are also some great Facebook groups full of people doing this who can support you too.
What would you say to someone who wanted to take on the challenge this year? Any top tips?
J: I'd say: Go for it. Although it's hard, it is a lot of fun. It's really life-giving and exciting, because every decision is about a better way of living.
C: And I'd say: Don't try to do it all at once. Just look into the things that seem to be cropping up a lot in your waste bin, start with one of them, and research to see if you can get it any other way. It's a real opportunity to be creative as well.
Look to see if there's a local store that sells bulk ingredients, or if you can get a veg box or milk delivered. Try and find a local farmers' market or use the loose vegetables at your supermarket.
J: Don't ever settle, like, 'Ok, I've done a few changes now. I've reduced my waste a bit.' Always be thinking of one more thing, so that it continues to be that fun journey of cutting back, not doing it all at once, but not settling either. It's an opportunity to invite God into the most mundane decisions while you're shopping, and find ways to honour him in that.
Are you interested in setting yourself a rubbish challenge in 2020? Take a look at our Rubbish Campaign for some ideas to get you started, and take a Plastic Pledge.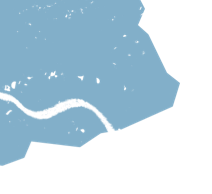 Get our email updates
Learn about our work and stay in touch with Tearfund. Hear about our news, activities and appeals by email.
Sign up now